Dental Emergencies
Fayetteville, NC
Over 40% of adults report feeling pain in their mouth within the last year. Dental emergencies can arise at any moment, disrupting your daily routine and causing considerable discomfort. Prompt dental care is crucial in such situations to prevent further damage and alleviate pain.
At O2 Dental, we recognize the distress associated with dental emergencies. As such, we ensure our patients receive the treatment they need by providing comprehensive dental emergency care services. We also address the importance of preventive measures and provide practical tips on minimizing the risk of experiencing dental emergencies.
What Constitutes a Dental Emergency?
A dental emergency is any injury to the teeth or gums that requires immediate attention. However, not all dental problems require emergency care. Examples of dental emergencies include the following: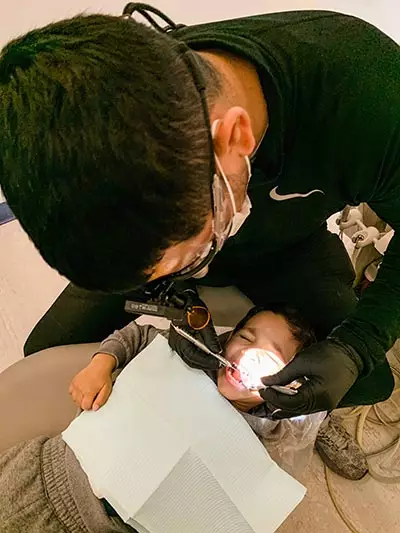 Severe toothache: A toothache can indicate several dental issues, including dental infection and tooth decay. While a mild toothache can be manageable, seeing a dentist immediately is vital if you have a severe toothache that does not subside with over-the-counter pain medication.
Dental abscess: A dental abscess is an infection that develops near the root of a tooth or in the interdental spaces. A Dental abscess is a severe condition that requires immediate attention. When left untreated, the infection can spread, leading to serious complications such as sepsis and infection of the jawbone.
Knocked-out tooth: A tooth can be knocked out by an injury to the face or a blow to the mouth. Be sure to pick the tooth by its crown and rinse it under warm water if it's dirty. Avoid removing any attached tissue, and preserve the tooth in a cup of milk. See your dentist immediately: a knocked-out tooth can be saved if returned to its socket within one hour.
Broken dental appliance: Though dental appliances, such as braces or dentures, are designed to withstand chewing pressure, they can break, leading to pain and discomfort. Broken dental appliances can also worsen the condition by hindering tooth alignment or reversing the straightening progress.
Why Choose O2 Dental Group for Dental Emergency Care?
Here's what makes us stand out as an emergency dental care provider: Our skilled dentists have treated a wide range of dental emergencies, including broken dental appliances, knocked-out teeth, and severe toothaches.
Moreover, all of our dentists invest into hours of continuing education each year to stay up to date on the latest techniques and methods for managing dental emergencies.
We are committed to providing our patients with top-tier emergency dental care. Given the stressful and painful nature of dental emergencies, we offer same-day appointments and make every effort to see our patients as soon as possible.
We use state-of-the-art, modern dental technology and equipment to diagnose and treat dental emergencies efficiently. We also employ the latest pain management techniques to make patients comfortable and relaxed during treatment.
Our reputation for excellence in emergency dentistry proves that we are committed to providing our patients with dependable emergency dental care. (See our reviews.) Our services are easily accessible since we accept most major insurance plans and offer various payment options.
Our Dental Emergency Services
We are committed to providing prompt and effective care for various dental emergencies. Our dental emergency services include the following:
Emergency tooth extractions: An emergency tooth extraction might be necessary for a severely damaged or infected tooth. However, our dentists will recommend extraction only if other restorative treatments can't save the affected tooth
Emergency root canals: Large cavities can result in a deep infection in the tooth's pulp, which can cause serious dental complications, including severe pain and tooth loss. Under these circumstances, our dentists may perform an emergency root canal to remove the infected pulp and preserve the tooth
Emergency dental repairs: Direct blows to the face can result in chipped, cracked, or broken teeth. Apart from ruining the aesthetic of your smile, broken teeth can cause discomfort, sensitivity, and infection if left untreated. Our dentists can perform emergency dental repairs using high-quality materials to restore the aesthetics and functionality of your teeth. 
Pain management: Severe dental pain can significantly impact your quality of life. We're committed to providing our patients with effective pain management solutions. Our options include local anesthesia, oral pain medication, and nitrous oxide sedation 
Since dental emergencies can occur at any time, we've implemented the strategies below to cater to urgent dental situations promptly and effectively:
Flexible scheduling: We employ a flexible scheduling approach to get you in for treatment as soon as possible. 
Emergency appointments: Our dentists prioritize prompt treatment for dental emergencies. We have a dedicated emergency appointment system to ensure that  you can be seen as soon as possible.
Extended hours: Dental emergencies can strike at any time. That's why we extend our clinic hours on weekdays and weekends to ensure that you can receive prompt treatment outside regular business hours
Clear communication: Our dentists prioritize open and transparent communication throughout treatment. They will ensure you are confident in your treatment plan by explaining your options and answering all your questions
Financing Options: We understand that dental emergencies can come at a surprise and may result in expenses that you were not prepared for. That is why we offer financing options to help you spread out the payments overtime.
The Dental Emergency Process
We are committed to providing you with a comfortable and patient-centered experience from the moment you call us until your follow-up care. Here's what you can expect from our dental emergency care process:
Initial Call and Setup
Our staff will prioritize your situation when you call to report a dental emergency. We will assess the urgency of your case by asking questions about your symptoms and pain level. Once we fully understand your situation, we will schedule an emergency appointment. Our team will work with you to find a time that fits your schedule and minimizes disruptions to your day. For your convenience, we also offer online scheduling directly from our website.
Check-in and Initial Examination
Our friendly and compassionate staff welcome you once you arrive at our practice. They will make every effort to put you at ease and alleviate any anxiety you may be feeling. Once you're comfortable, the dentist will evaluate your teeth and gums to diagnose the cause of your dental emergency.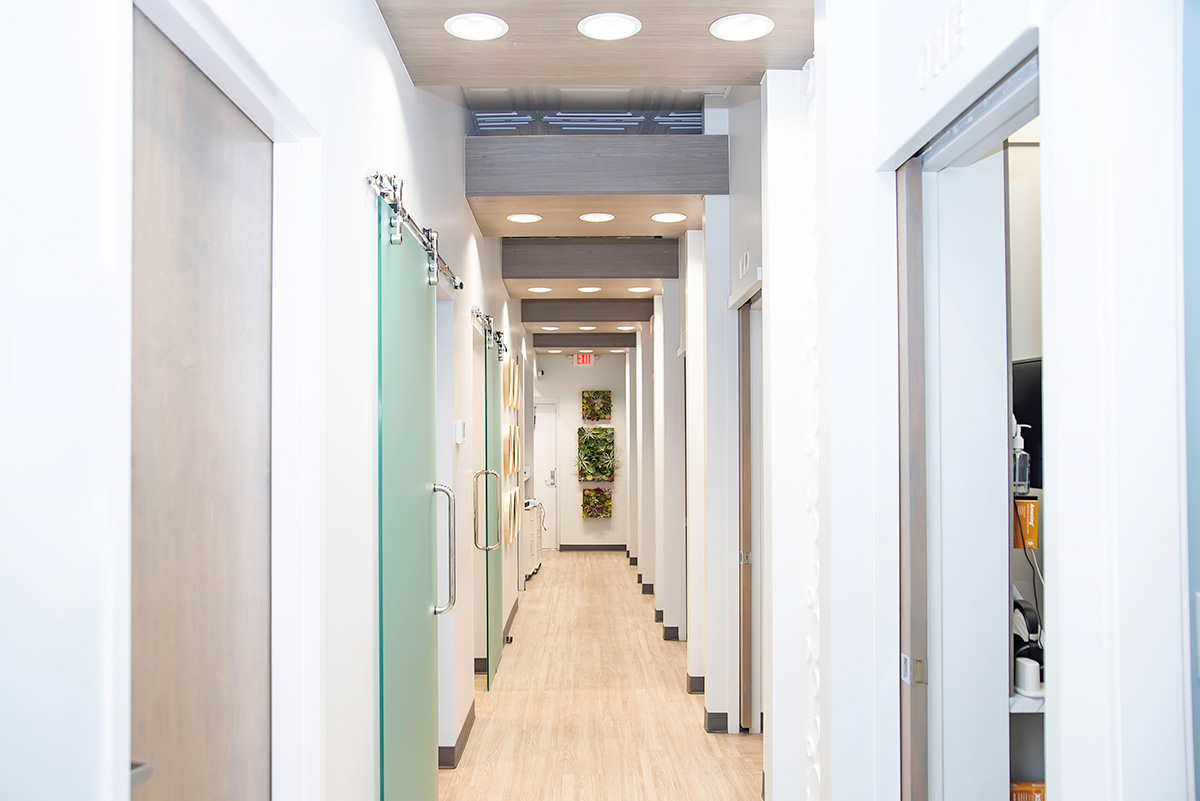 Next, the dentist will discuss the available treatment options and formulate a treatment plan based on your evaluation results. They will also explain each treatment option's potential risks and benefits and address your concerns.
Treatment and Follow-Up
Once you consent, the dentist will perform the necessary treatment with precision and care. We employ advanced techniques and pain management strategies to minimize discomfort and ensure a positive experience.
We will provide you with detailed post-treatment instructions upon completion of the treatment. We will also advise you on necessary home care measures, dietary restrictions, and follow-up arrangements.
Finally, the dentist might schedule follow-up appointments to monitor your progress and ensure you're healing properly. Additionally, they will remain available for any questions or concerns during recovery.
The Importance of Aftercare
Post-treatment care is crucial for ensuring a successful recovery from a dental emergency. The aftercare instructions below will help prevent complications, promote healing, and restore your oral health:
Maintain proper oral hygiene: Regularly brush and floss your teeth to prevent infection and promote healing. Use a soft-bristled brush and avoid vigorously brushing the treatment site until advised by your dentist
Attend scheduled  follow-up appointments: During follow-up appointments, your dentist will examine the treatment site and assess the healing process. They will also guide you on maintaining good oral hygiene and address any concerns related to your oral health
Avoid smoking: Avoid smoking or using tobacco products during recovery. Cigarette smoke contains harmful substances that impair tissue regeneration and slow down the healing process.
Diet considerations: Chewing hard, crunchy, or sticky foods can aggravate the treatment site. Stick to soft foods that are easy to chew and won't put pressure on the damaged tooth
Monitor for signs of complications:  Contact your dentist immediately if you experience any unusual symptoms, such as persistent pain, fever, or swelling. Early detection of potential complications allows prompt intervention, preventing further damage or long-term issues.
Preventing Dental Emergencies
Prevention is always better than cure. Adopting the preventive measures below can considerably reduce your risk of experiencing dental emergencies: 
Wear mouthguards for sports: Protect your teeth from impact by wearing a mouthguard during sports. A properly fitted mouthguard can significantly reduce the risk of chipped, cracked, or broken teeth.
Limit sugary drinks: You can reduce your risk of tooth decay and associated dental emergencies by limiting your intake of sugary drinks. Oral bacteria feed on sugar and produce acid in the process, which erodes the enamel and weakens the teeth
Schedule regular dental check-ups: Regular dental check-ups provide opportunities for early detection and the prevention of potential dental problems. Schedule six-month check-ups to allow your dentist to evaluate your oral health and address any issues before they escalate into severe emergencies
Maintain excellent oral hygiene: Brush and floss regularly to remove bacterial and plaque buildup. Brush twice daily and floss once daily to combat bacteria, preserve your teeth's strength, and prevent dental emergencies from taking root  
Stay hydrated: Drink plenty of water to remove food particles and bacteria from your mouth. Staying hydrated also prevents dry mouth and neutralizes  acids , reducing the risk of tooth decay and other complications
We understand the importance of empowering our patients with knowledge to prevent dental emergencies. We believe informed patients are better equipped to make informed decisions about their oral health. To this end, we provide comprehensive educational resources and encourage open communication to help you understand your oral health and adapt good dental care techniques. 
Dental emergencies can be distressing and disruptive. However, our prompt and effective emergency services can restore your comfort and oral health. Our experienced dentists are skilled in handling various dental emergencies with expertise and compassion. We also promote preventive care by providing our patients with comprehensive educational resources and personalized consultations. 
Contact us immediately if you experience a dental emergency. Remember, early intervention can minimize pain and prevent further damage. Our team is dedicated to addressing your concerns and ensuring you receive the best treatment. 
Questions About Our Emergency Dentist Services?
If you have experienced an oral accident resulting in a tooth being knocked loose, a filling being damaged or a tooth being fractured, call us immediately to schedule an emergency dentist appointment. We're open on Saturdays and can often schedule your appointment the same day you call our office!