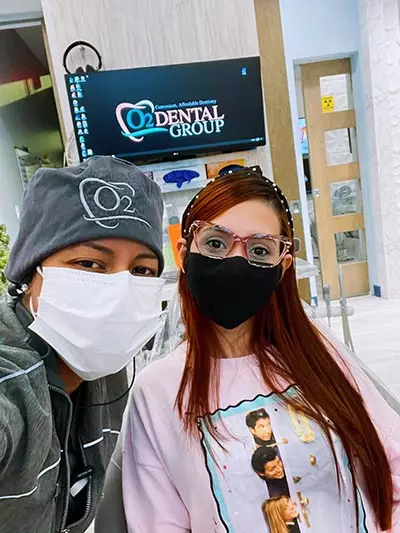 The first time you visit us as a new dental patient at O2 Dental Group, we will discuss your health history, past dental experiences, and any concerns you may have about receiving dental care. To help us serve you best, we need to know what your expectations and needs are for treatment. Urgent concerns, like pain or a broken tooth, will be addressed immediately!
You'll find our North Carolina dental office comfortable and relaxing. Enjoy our amenities both before and during your dental treatment:
Warm, scented towels designed to promote relaxation
Ceiling-mounted screens playing your favorite Netflix and Hulu shows
An interactive play area for children of all ages
Nervous about visiting the dentist? Have a child with you? We provide tours of our office upon request to take the uncertainty out of your visit. We also have a variety of sedation dentistry options for anxious patients. As a courtesy to other patients and staff, we ask for a 48-hour notice if you need to reschedule an appointment. Failure to do so may result in a missed appointment fee. We also ask that you confirm your appointments within 48 hours prior to your appointment date and time. Failure to do so could result in the loss of your appointment time and a missed appointment fee. Please be aware that unconfirmed appointments cannot be guaranteed.
We Don't Rush Your Dental Care
Please reserve approximately 90 minutes for your first visit with us. We want to get to know you, as well as provide you with the quality dental care and attention you deserve! First, we will take a set of x-rays to provide a comprehensive view of your entire mouth, including the roots of your teeth and your jawbones. A complete dental exam will follow to evaluate the overall health of your teeth and gums. If your gums have no swelling or deep pockets, we will continue with a preventive cleaning. Finally, our doctors will determine whether you need any type of restorative treatment and discuss your future dental care options with you.
Save Time Before You Arrive
The last thing you want to do is spend twenty minutes filling out paperwork when you arrive to see the dentist. Our new patient forms are available online so you can fill them out in the convenience of your own home.
Links to Online Forms:
Call O2 Dental Group to schedule your dentist appointment today! Not sure if we accept your dental insurance? Click here to view our financing options. Se habla Español!
We look forward to meeting you. Call (888) 617-5492 or book an appointment online to set up your first visit. We'll be in touch soon.