Dentist Fayetteville, NC
Comprehensive & Implant Dentistry
From cosmetic work, implants and denture services to urgent treatments - we provide a compassionate approach at our modern dental practice in Cumberland County.
Searching for the Best Dentist Office in
Fayetteville, North Carolina?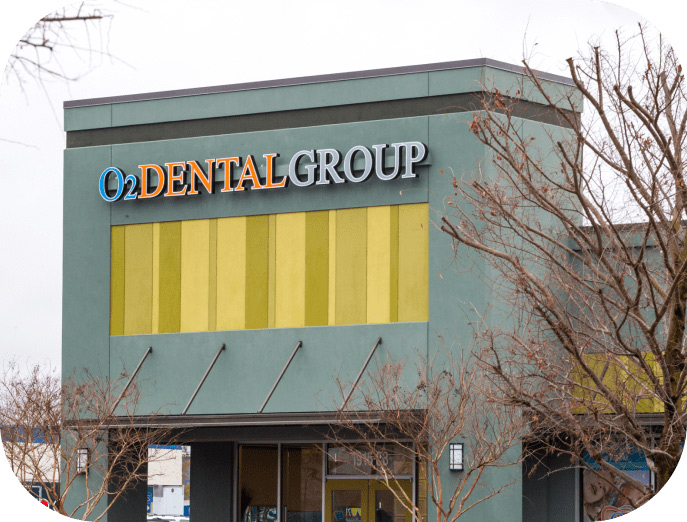 Smiling and knowing you have beautiful, healthy teeth is the amazing experience we want you to have; and if you are searching for the best dentist near me in Fayetteville, NC to take expert care of all your dental needs, the O2 Dental Group is here for you and your family.
Whether you are a resident of our beautiful city or just visiting on vacation, our modern, and friendly full-service dentistry office is conveniently located near Cross Creek Mall at 1916 Skibo Rd Suite C3, just off the intersection of Morganton Rd and Highway 401 (Skibo Rd).
Only a few miles from Fort Bragg in one direction and the beautiful Hope Mills in the other, our state-of-the-art facility combines ultra-modern dental technology with exceptional customer care for a calm patient experience.
If you have ever suffered the stress of having to visit several dentists' offices to complete your treatment plan, you can now relax in the knowledge that 99% of your dental procedures will be carried out quickly and efficiently in-house. Plus, if you need the convenience of a late appointment, we are open until 8PM Monday through Friday and, unlike many area dentists, we offer Saturday treatments as well.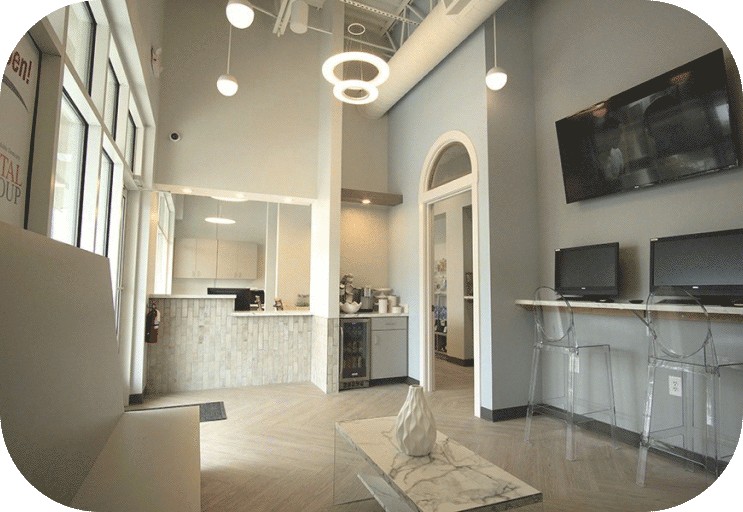 We are proud to be your 'Go2' Fayetteville, NC dentist, serving our local community and all the surrounding areas, including Westover, Spring Lake, Eastover, and Rockfish.
New patients are always very welcome, and our focus is on making you feel as comfortable as possible in a calm and relaxing environment. Many patients return to us for future treatments year after year because our doctors and dental staff truly understand how to care for you and your family when you need us.
We also have staff who speak both English and Spanish - se habla español!

" Experience was better than expected "
"The staff were excellent and as a person who hates the dentist and gets very distressed - this experience was way better than expected. They kept me informed of each step and that was calming. This appt was for a crown.... every part was made to calm me and I left there with a permanent crown!!"

Kim Lindberg
NEED EMERGENCY DENTAL CARE IN
FAYETTEVILLE, NC?
Convenient, affordable dentists near you.
Your Amazing O2 Dental Team in Fayetteville, NC
Led by Dr. Tatiana Novas and Dr. Julio L. Morales, our talented and professional dental team in North Carolina, are passionate about creating lasting relationships with all our patients so that they always have a healthy smile.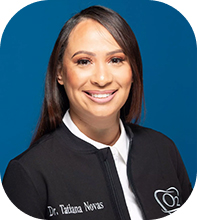 Dr. Tatiana Novas
Hi, I was born on the tropical island of Santo Domingo and was raised in Providence, Rhode Island. I graduated from Assumption College in Worcester, MA with a Bachelor of Science in Biology and Psychology. I went on to complete her Master's Degree in Medical Sciences with a concentration in Dental Medicine and received her DMD degree at Boston University. After receiving my Dental degree I went into a one-year residency at Interfaith Medical Center in Brooklyn where I was able to provide comprehensive dental treatment to members of a very diverse community. During my residency, I was able to reach out and educate on the importance of Dental Health and its correlation to overall health. I worked in Brooklyn, NY for 2 yrs before relocating to North Carolina. Outside the office, I love to travel and dance. I enjoy doing esthetic dentistry and focus mainly on patient care! I love being a part of the team at O2 Dental Group and am always ready to make a positive impact while providing great dental treatment.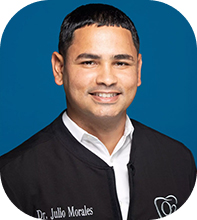 Dr. Julio L. Morales
I was born on the island of Cuba and grew up in Miami, Florida. I enlisted in the U.S. Army right after high school and served with the 82nd Airborne Division. After finishing my military service, I completed my Bachelor's of Science in Biology at Fayetteville State University and graduated with my DMD degree from East Carolina University School of Dental Medicine. My passion to serve has led me to represent the Hispanic Student Dental Association chapter and my class as president during my time in dental school. I love all aspects of dentistry and believe in treating all patients with respect, fairness, and kindness. Outside the office, I enjoy traveling with my wife Carmen, a dental hygienist, and spending time with my son Julián. He also enjoys tropical music, films, and running.

" Simply Amazing Experience "
"This was my first visit at the dentist office. All I can say is simply amazing experience. The staff are friendly and provide great customer service. The dentist I saw also was amazing!!! I made the right choice and would definitely recommend."

KEVIN CAMPBELL
READY FOR A SMILE MAKEOVER?
Start smiling with confidence today.
DENTAL CARE IN FAYETTEVILLE, NC
We look forward to meeting you.
Call (910) 446-9027 or book an appointment online to set up your first visit. We'll be in touch soon.
1916 Skibo Rd Suite C3
Fayetteville NC 28314