At O2 Dental Group of Fayetteville, our dentures are made with the highest quality using the best materials. We work with only the best labs to deliver the exceptional results that you expect and deserve! Benefits of dentures/partials:
Get your smile back
Get the smile you have always wanted and deserve
Allow you to chew better
Improve your confidence and self esteem
Lowest cost option to replace several missing teeth
FULL or COMPLETE DENTURES are an option for patients that are missing all of their teeth. You can replace every missing tooth with a full denture.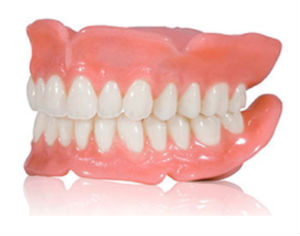 PARTIAL DENTURES are for patients that are only missing some of their teeth and want a replacement. Partial dentures may be an option for you if you are missing one tooth or if you have 2-3 teeth left. Partial dentures attach to your natural teeth for optimal retention.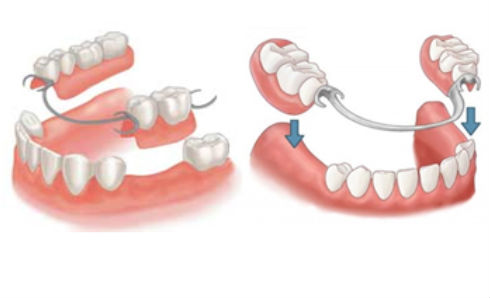 An INTERIM PARTIAL DENTURE also known as a "flipper" could be a good option for patients that are just missing one tooth. Especially if it is a front tooth. Flippers are generally not meant to be used to chew food, just as a cosmetic fix until a more permanent solution can be completed.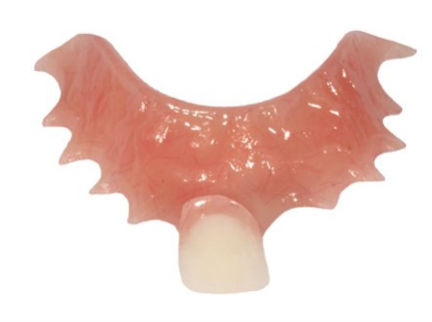 Improve Your Quality of Life With Dental Implants
Dental implants and dentures are a match made in heaven! Benefits:
Smile, chew, laugh with more confidence
You don't have to worry about your dentures falling out or getting loose at the most inconvenient times
Dental implants maintain your bone so you don't continue to lose bone
Dental implants allow you eat your favorite foods
No Fixodent or denture adhesives necessary when you have dental implants
Never take out your denture again
Types of Implant Dentures
Removable or "snap-on" implant dentures: These dentures are attached to dental implants, but are still removable. They secure your dentures and allow you to smile, chew and laugh with more confidence.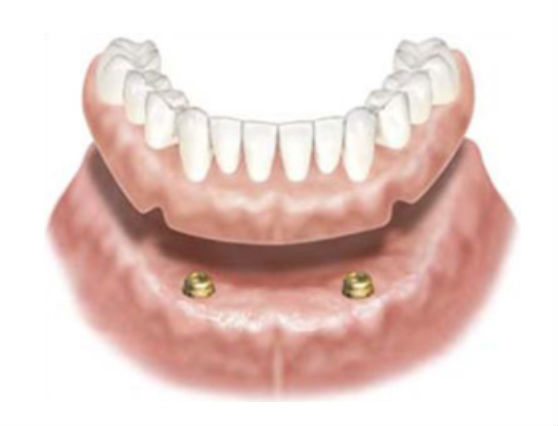 Hybrid bridge or "permanent" implant dentures: This option allows us to tighten your dentures to your dental implants. They stay in all the time and you never have to worry about removing them. This option allows you to get your smile back and makes you forget that you had missing teeth!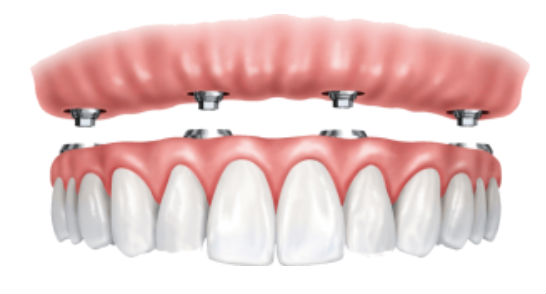 Frequently Asked Questions
If I need extractions, do I have to go without teeth? Absolutely not! Immediate dentures are great options for most patients. With this option, we can insert them on the same day you have your extractions. Please call our office and schedule your consultation if you have any more questions about immediate dentures.
How long will it take to get my dentures? You can generally expect to get your dentures in 4-6 weeks. This usually requires 4-5 appointments in our office. Our process ensures that they are made at the highest quality and will be as comfortable as possible. We want your dentures to feel like they belong in your mouth. We do not skip any steps or take any shortcuts!
Will my dentures look like my natural teeth? Absolutely. Every effort is made to make your dentures look as natural as possible. It helps if you can provide a close up picture of what your natural teeth used to look like. We can make denture teeth crooked, put in gaps, put in some light staining or we can just give you the perfect Hollywood smile!
Will my dentures or partials have metal attachments that show? Recent development in dentistry allows us to make dentures and partials that do not have metal attachments or a metal base. This means you can smile and talk with more confidence!
Do you offer economy dentures? No. We make every effort to fabricate all of our dentures and partials using the highest quality materials and dental labs. We do not cut corners. We also pride ourselves in exceptional follow up care after the placement of your dentures. 
I just got my denture, why do I need to have adjustments? Adjustments are a normal process with any new set of dentures. As you start talking and chewing with your new dentures, you may notice some areas that are "rubbing" more than other areas. A simple adjustment is usually all that is needed to relieve these high pressure areas. Some people require only one adjustment, some require several and some don't need any adjustments at all. Everyone is different.
How much are dentures and partials? Dentures and partials will range from $1,200 - $1,700 per arch. Your dental insurance plan may help cover the cost of your dentures and partials.
Do you offer same day relines and repairs? Absolutely! We do recommend that you come in the morning to drop of your denture/partial so you can pick them up by the afternoon/evening.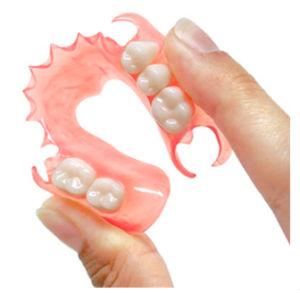 Do you offer valplasts/ flexible partials? Yes, we do! Valplasts are partials that do not have a metal base or metal attachments. They are flexible and generally more comfortable to patients.
Please call our office for your complimentary consultation if you are interested in a valplast partial.
I don't have enough bone, will I be a candidate for dental implants? We cannot really answer this question until we see you in our office. However, smaller diameter implants can be inserted in patients that have limited bone volume. 
How much do implant dentures cost? You can expect to pay several thousands of dollars out of pocket for implant dentures regardless of your dental insurance coverage. We recommend you schedule a consultation with our office for a more accurate quote.