Dental Implants
Fayetteville, NC
Looking for the best dental implants in Fayetteville? O2 Dental Group Fayetteville offers the latest cutting-edge, state-of-the-art technology to both plan your tooth replacement and place your dental implants. You can rest easy knowing that your tooth implant procedure will be executed with the highest degree of precision. Our technology allows us to minimize any unwanted complications or adverse effects and makes your treatment faster, safer and more predictable.
Convenience for Fayetteville Patients
With the majority of our tooth replacement procedures performed in our facility, you don't have to deal with multiple offices and multiple doctors to complete your dental implant placement. You will see the same doctors and staff members from start to finish. With no room for miscommunication between offices, your implant procedure is safer and more predictable. Don't forget about our convenient hours! We can schedule your implant procedure for a time that is convenient for you so you don't have to miss anytime from work.
We understand that your dental implant procedure is a very important investment. That is why we provide a warranty to protect your investment. Assuming you don't have any compromising medical conditions, if your dental implant should fail, we will replace the implant at no additional cost to you for the first 5 years.
Our doctors are highly trained in the art of implant dentistry. We have attained the highest level of post-doctoral training in dental implant placement and restorations. We also take numerous hours of continuing education each year to stay up to date on the latest techniques to ensure your oral surgery is better, safer, and more predictable. As a general dentistry practice, we maintain some of the highest volume of dental implant placement and restorations in North Carolina. You can rest easy knowing that we do this all day, every day!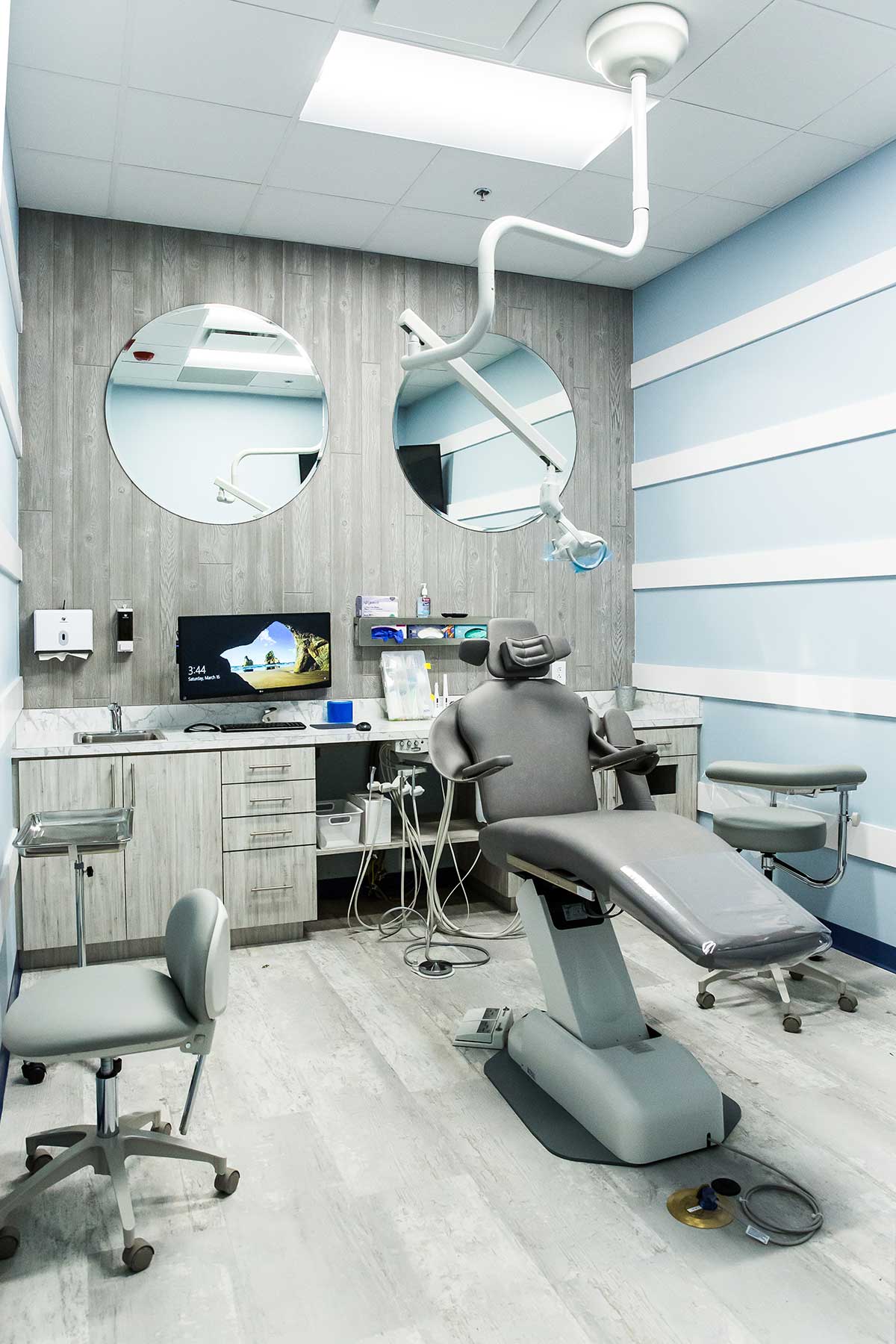 Are Dental Implants Expensive?
We strive to make your dental implant investment affordable. The cost of a dental implant procedure in our practice is generally 20-30% lower than the average cost in North Carolina. We do not cut corners. Our philosophy is to provide the highest level of dentistry at an affordable price. We accept all major credit cards, as well as CareCredit®. Additionally, we can help you arrange for affordable in-house financing.
Benefits of Dental Implants
Dental implants are by far the most popular and effective way to replace missing teeth. A dental implant is a titanium post that replaces the root of a missing tooth. While a crown is a cap that replaces the top part of the tooth, an implant is a full tooth (root and crown.) Many patients choose dental implants to replace a single tooth or several teeth. Some patients use it to support a full set of dentures or partial dentures. Smiling, chewing and speaking are easier with a full set of teeth! Some of the many benefits of dental implants are:
Provide comfort and stability
Look, feel and perform like your natural teeth
Do not compromise adjacent teeth to support a bridge
Help preserve surrounding bone by replacing the tooth root
Attach securely to dentures/ partials
Help prevent bone loss and jaw line recession
Restore a more secure biting ability than a removable denture
Improve appearance and self esteem
Require similar oral care as a natural tooth
Dental implant technology offers a diverse range of implant restoration solutions to address varying degrees of tooth loss and oral health needs. These options encompass single tooth implants, which provide a focused replacement for individual missing teeth, and dental implant bridges that efficiently span larger gaps while preserving neighboring teeth. Fixed-detachable implant dentures combine the stability of implants with removable convenience, while hybrid dental implants offer a secure, fixed denture option.
Replace One or Two Teeth With Implants
A single tooth implant involves the surgical placement of a titanium post into the jawbone, which acts as a sturdy foundation for a custom-made artificial tooth. This approach preserves the surrounding teeth since adjacent teeth aren't modified as they would be with a dental bridge procedure. Dental implants not only offer the advantage of preserving surrounding teeth by avoiding the need for traditional bridges, but they also promote jaw bone health and stability. Our single implant procedure provides a seamless and natural-looking way to restore your smile's functionality and aesthetics. Whether you're missing a single tooth or a couple, our experienced team ensures a personalized treatment plan tailored to your unique needs.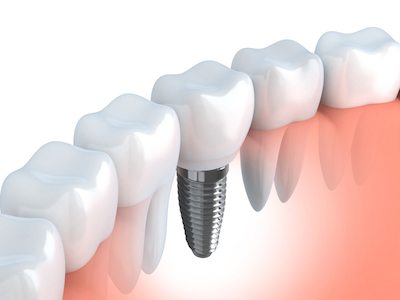 Replace Three or More Teeth With a Dental Implant Bridge
A dental implant bridge is a restorative dental procedure that involves the placement of multiple dental implants to support a bridge spanning the gap of missing teeth. This innovative solution offers improved stability and aesthetics compared to traditional bridges, as the implants provide a strong foundation that eliminates the need for altering adjacent healthy teeth. Unlike a single tooth implant, which replaces a single missing tooth and its root, a dental implant bridge can replace several adjacent teeth seamlessly. It differs from an implant supporting an entire arch of teeth, such as the "All-on-Four" concept, which utilizes a smaller number of implants (typically four) to anchor a full set of prosthetic teeth, providing a comprehensive and fixed solution for patients.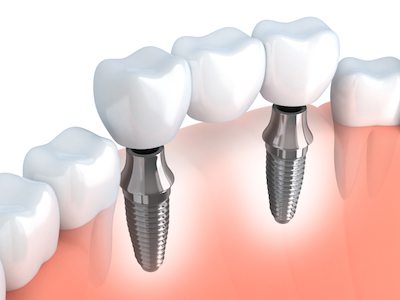 Retain Your Dentures with Dental Implants
An implant-supported denture is a dental prosthetic that combines the stability of dental implants with the convenience of dentures. Unlike traditional dentures, which may be prone to shifting or discomfort, implant-supported dentures are securely anchored to dental implants placed in the jawbone, providing enhanced stability and functionality. This solution is particularly beneficial for individuals missing multiple teeth or entire arches. While a single tooth implant replaces a single tooth and its root, an implant-supported denture replaces a larger span of missing teeth and utilizes multiple implants for support. In comparison to an implant supporting an entire arch of teeth, like the "All-on-Four" concept, which uses more implants to support a full set of teeth, an implant-supported denture typically involves less implants and delivers reliable stability and improved distribution of bite forces, offering an efficient and reliable way to restore dental aesthetics and function.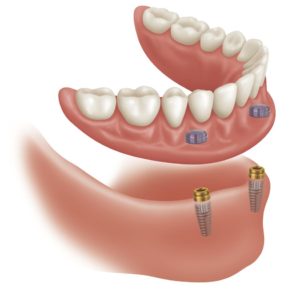 Regain Your Smile With An Implant Hybrid Denture
A hybrid implant denture is an innovative dental solution that combines the stability of dental implants with the convenience of dentures. Also known as a fixed-detachable implant denture, it involves securing a custom-made prosthetic arch to dental implants using screws or other secure attachments. A hybrid denture does not cover the roof of the mouth. This approach offers remarkable stability and function, allowing patients to enjoy the confidence of fixed teeth while still being able to enjoy the texture and taste of their favorite foods.
In the case of "All-on-Four," four implants are strategically placed in the jawbone, while "All-on-Six" involves the use of six implants. These implants serve as anchors for a full set of prosthetic teeth, creating a fixed and stable dental restoration. This approach is particularly suitable for individuals who have lost most or all of their teeth in one or both arches. The concept aims to maximize the use of available bone, often avoiding the need for bone grafting procedures.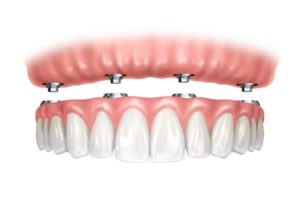 How Long Does the Implant Procedure Take?
The time required for your dental implant procedure may vary depending on a number of factors. These include your individual case, the number of implants being placed, and any other procedures that may be required. Typically, the dental implant process can be broken down into several steps, each with its own time factor.
Dental Consultation and Planning:
The first step is where your dentist will assess the health of your mouth, including your teeth and jawbone. This may involve taking x-rays to develop a treatment plan. This step may require one to three days.
Tooth Extraction (if necessary):
If one or more teeth need to be extracted before placing the implant or implants, this could take anywhere from a few minutes to an hour, depending on the complexity of the extraction.
Bone Grafting (if necessary):
If there is not sufficient bone at the implant site, a bone graft may be necessary to provide a strong enough foundation for the implant. This could add several months to the overall timeline, as the graft will require time to fuse with the existing bone.
Placing the Implant:
The surgical procedure of placing the implant in the jaw typically takes about 30 minutes to 2 hours per implant. This includes all of the preparation and surgical steps.
Healing and Osseointegration:
After the implant has been placed, there is time needed for the implant to heal and fuse with the surrounding bone. This is known as osseointegration, and can take approximately three to six months.
Uncovering the Implant:

Occasionally your dental implants may be covered up by your gums and a second surgical procedure may be necessary in order to expose your dental implant. This procedure can take anywhere from a few minutes to an hour depending on how many implants need to be uncovered.
Placing the Abutment:
After the osseointegration is complete, an abutment (connector) is attached to the implant. This step can be done in one appointment and typically takes about 30 minutes to an hour.
Final Restoration:
Once it is determined by your dentist that your dental implant is ready for its restoration, a digital scan of your implant is taken which will be sent to a dental laboratory. The fabrication and placement of the final crown, bridge, or denture that attaches to the implant may require a couple of weeks to months to be created in a dental laboratory. Once the crown, bridge or denture is ready, it's attached to the abutment. This step usually lasts about an hour.
The above time frames are estimates and can vary depending on your case and the approach needed. To get a more detailed estimate of your needs, please contact us today to schedule your consultation!