Local Dentist Durham, NC


Affordable Dental Services
From cosmetic work, implants and denture services to urgent treatments - we provide a compassionate approach at our modern dental practice in Durham County.
Searching for the Best Dentist Office in
Durham, North Carolina?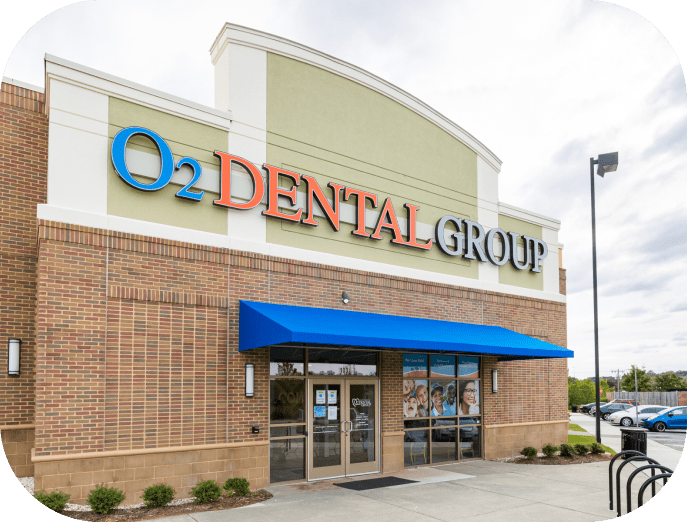 Smiling and knowing you have beautiful, healthy teeth is the amazing experience you can have; and if you are searching for the best dentist near me in Durham, NC to take expert care of all your dental needs, the O2 Dental Group is here for you and your family.
Whether you are a resident of our beautiful city or just visiting on vacation, our modern, and friendly full-service dentistry office is conveniently located at 3219 Watkins Rd #103, just off the intersection of Durham-Chapel Hill Blvd and Interstate 40.
Only a stone's throw from the beautiful Chapel Hill and the trendy Streets at Southpoint, our state-of-the-art facility combines ultra-modern dental technology with exceptional customer care for a calm patient experience.
If you have ever suffered the stress of having to visit several dentists' offices to complete your treatment plan, you can now relax in the knowledge that 99% of your dental procedures will be carried out quickly and efficiently in-house, right here off Mt Moriah Rd. Plus, if you need the convenience of a late appointment, we are open until 6pm some evenings, unlike many area dentists.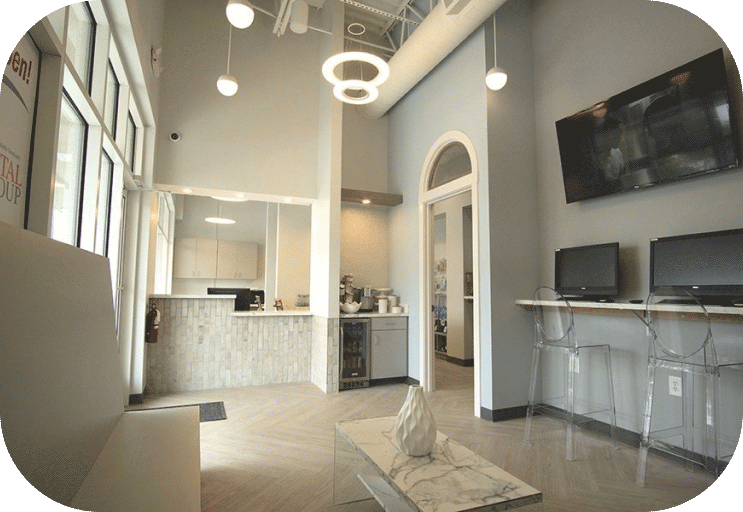 We are proud to be your 'Go2' Durham, NC dentist, serving our local community and all the surrounding areas, including Chapel Hill, Old West Durham, Blackwood and Hope Valley.
New patients are always very welcome, and our focus is on making you feel as comfortable as possible in a calm and relaxing environment. Many patients return to us for future treatments year after year because our doctors and dental staff truly understand how to care for you and your family when you need us.
We also have staff who speak both English and Spanish - se habla español!

" Experience was better than expected "
"The staff were excellent and as a person who hates the dentist and gets very distressed - this experience was way better than expected. They kept me informed of each step and that was calming. This appt was for a crown.... every part was made to calm me and I left there with a permanent crown!!"

Kim Lindberg
NEED EMERGENCY DENTAL CARE IN
DURHAM, NC?
Convenient, affordable dentists near you.
Your Amazing O2 Dental Team in Durham, NC
Led by Dr. LaShawn Hart, our talented and professional dental team in North Carolina, are passionate about creating lasting relationships with all our patients so that they always have a healthy smile.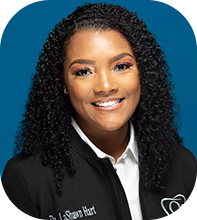 Dr. LaShawn Hart
Hey y'all, I'm Dr. Hart! I'm from the small town of Reidsville, North Carolina which is just North of Greensboro. I earned both my undergraduate degree in Biology and my Doctor of Dental Surgery degree from the University of North Carolina at Chapel Hill. While in college I was a member of the Marching Tar Heels drumline and in dental school I immersed myself in leadership and community service. After dental school, I completed an Advanced Education in General Dentistry residency at the Fayetteville VA Medical Center; this additional training provided me with invaluable experience in oral surgery, fixed and removable prosthodontics, and placing and restoring implants. Outside of the office, I love to cuddle with my Goldendoodle named Champ and spend time with my family and friends. I enjoy traveling, riding ATVs, fishing and cheering on the Carolina Tar Heels! I am passionate about putting forth my best effort to care for my patients. I look forward to educating you about your oral health and addressing your specific dental needs!

" Simply Amazing Experience "
"This was my first visit at the dentist office. All I can say is simply amazing experience. The staff are friendly and provide great customer service. The dentist I saw also was amazing!!! I made the right choice and would definitely recommend."

KEVIN CAMPBELL
READY FOR A SMILE MAKEOVER?
Start smiling with confidence today.
DENTAL CARE IN DURHAM, NC
We look forward to meeting you.
Call (919) 813-2267 or book an appointment online to set up your first visit. We'll be in touch soon.
3219 Watkins Rd. Suite 103
Durham, NC 27707